A fun team-building adventure for your company or group in the heart of Brooklyn Heights' historic district!
On our Brooklyn Heights Historic scavenger hunt, you'll race through quaint streets and cobbled rows, solving fun and challenging clues about notable spots along the way. Explore hidden gems, monuments, tidbits of trivia, famous residents, the iconic promenade, incredible views of Manhattan – and enjoy a very tasty conclusion!
Once full of Dutch farms and native villages, Brooklyn Heights was born from the Fulton Ferry crossing and soon became an integral extension of New York City. There's much history to be found here and it's the perfect outdoor setting for a high-energy, challenging team-building competition!
Your adventure begins on the steps of Brooklyn Borough Hall. In a race against time and the other teams…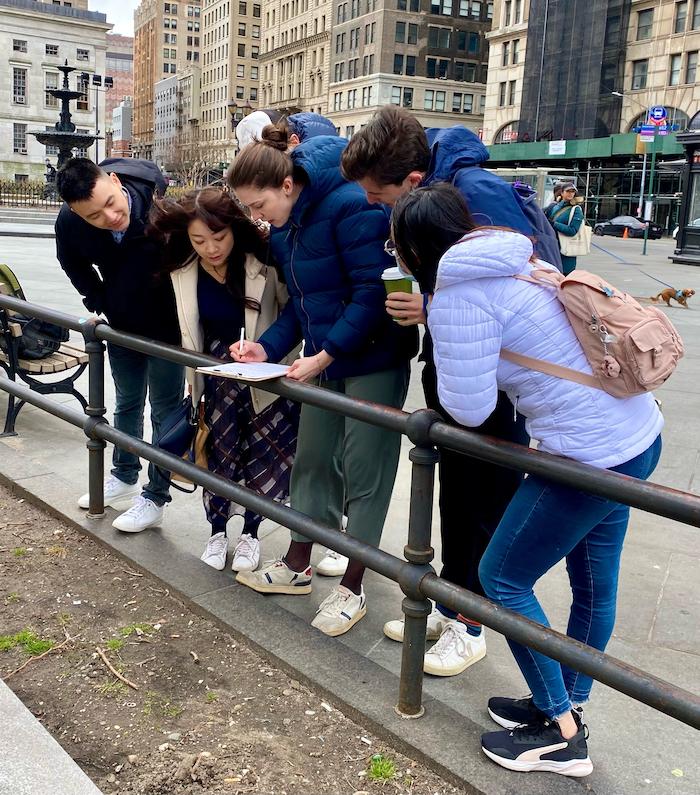 Explore the memorials of Columbus Park and Kings County Supreme Court. Meet the man who built the Brooklyn Bridge, as well as a famous abolitionist.
Visit the homes of authors such as Henry Miller, Thomas Wolfe, Arthur Miller, Truman Capote, and learn about their lives here.
Search for hidden carvings at the entrance to a Maronite Cathedral. Find the neighborhood Mikveh – a Jewish ritual bath – and learn about the people/organizations that create such places.
Explore historic sites from the American Revolution. Visit the spot where George Washington kept his headquarters during the Battle of Long Island.
Examine the Fulton Ferry Crossing, the historic entrance to Brooklyn. Learn how the ferry system shaped New York City.
Stroll along the famous Promenade and take your own iconic photos of the Manhattan skyline.
Finish with a visit to the Brooklyn Ice Cream Factory (currently transitioning to Ample Hills Creamery) while we tally up the scores! (purchase ice cream as desired)
Much more!
Our Brooklyn Heights Historic scavenger hunt is a game of strategy, collaboration and communication where teams must search together for answers to clues, solve the puzzle first and outsmart the other teams to win.
Are you ready? Let's go!
Book this hunt for your group! >
Want to chat? Call 212-951-0140 or send us a text message now!